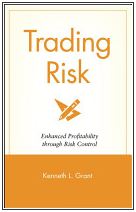 If you are serious about trading and Kenneth Grant's Trading Risk isn't already in your library, I think you should consider getting a copy. Who is Kenneth Grant?  Here is his bio from Amazon:
Kenneth L.Grant is Cheyne's Global Risk Manager, and is the Managing Member for Cheyne Capital, LLC, the firm's U.S. arm. Mr. Grant is a pioneer in the field of hedge fund risk management and capital allocation. Before joining Cheyne, he created risk control programs at two of the world's leading hedge funds, Tudor Investments and SAC Capital, where he was eventually promoted to the title of Chief Investment Strategist. Mr. Grant holds a Bachelor of Science in Economics and Mathematics from the University of Wisconsin, an MA in Economics from Columbia University, and an MBA from the University of Chicago Graduate School of Business.
I won't present a review as many others have already written same but I will suggest that you buy the dead tree version rather than an e-book as this is likely to serve as a reference for future use and one that you may want to highlight sections of.
{ 0 comments }