We think, each of us, that we're much more rational than we are. And we think that we make our decisions because we have good reasons to make them even when it's the other way around. We believe in the reasons, because we've already made the decision." Daniel Kahneman
My ETF momentum trading in April produced a very respectable return of 4.6%.
I gauge the performance of my ETF momentum trading system in a number of ways.  First I compare it to the performance of a passive global ETF strategy.
The passive global portfolio is constructed with ETF allocations as per the table below.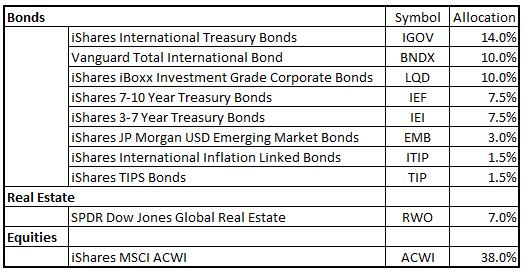 The basis for the composition of this global portfolio is a research paper written by Ronald Doeswijk and others as discussed at Gestaltu.
My trading system has performed much better than the passive global portfolio so I like to ensure that ETF selection bias is not at play.  That is, my system may have outperformed simply because it includes ETF's that are performing well overall. To check against selection bias and to get a sense of the value that my momentum strategy is adding, I compare the performance of Pure Momentum to the average of the ETF's in the basket that I select from.
Had I invested $100,000 equally in the ETF's that I select from I would have a gain of $3,912 versus the $9,165 gain that my momentum strategy generated. So far, it is fair to say that my momentum strategy is adding value.
Finally, I compare my performance against a professionally managed fund that employs a similar momentum strategy applied to asset classes. Cambria Global Momentum ETF has a strategy that is very similar to the one behind Pure Momentum.
You can always check on the performance of Pure Momentum by going here. To my Collective2 subscribers, I hope you are pleased with my trading results and are able to overcome investing's greatest challenge – sticking to a strategy.
{ 0 comments }